I am such a goober sometimes! I think it's because I didn't really do all my blog reading today, but the ever so lovely Katie is hosting a Monday blog hop with the most adorable button for the holidays!
If you've got time, slip on over there and show her some love and say hello and meet some new friends!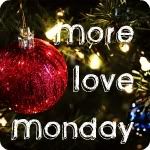 Katie hon, sorry I missed you until now! I'm writing you down so I can hop on earlier next Monday!